Tequila Express 3 day – 2 nights all inclusive get away package experience
The Tequila Express is a train ride to the town of Amatitán near Guadalajara, the birthplace of Tequila. You will be greeted by our staff either at the airport or the bus station will be transferred to your hotel in Tlaquepaque or Guadalajara Center to provide an orientation tour through the historic center.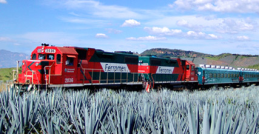 On the Tequila Express tour we will pick you up at 8:45 am to your hotel to transfer you to the Tequila Express station to begin our adventure at 09:00 am in Guadalajara Railway Station. Passengers are greeted with live mariachi music and then assigning them by color instead of wagon, boarded the train to leave promptly at 10:00 am. During the trip, (which lasts 1 hour), we offer snacks and drinks (open bar) Marichi music and a tour conductor tells the story of the Hacienda San José del Refugio (home of Tequila Herradura) Once registered a color of car is assigened, on board the train to leave promptly at 10:00 hours on our wonderful adventure.
Inside the cars have the special attention of the porters and hosts, to make the trip more enjoyable, it is important to mention that we have private security, paramedics and Red Cross special attention wagon coordinators, who are there to help you !
On arrival at Amatitán we moved to the Hacienda de San José del Refugio where does the tour of the facilities and we will see the development of this drink, through the steam ovens where the cones are sewn agaves, immediately continue the tour to admire the old distillery that time stills and a visit to the museum where it is projected a video that illustrates the daily work of that estate.
After completing the tour, we went to the food which is a magnificent buffet of Mexican dishes with an excellent show of folk dancing, and mariachi charro, and a dance contest. The party continues with music for dancing or singing, all surrounded by beautiful gardens and animals in captivity.
* 3 days 2 nights Hotel Special Category (double occupancy base)
* Buffet breakfast
* Ticket to Ride Tequila Express Train with food and drinks included
* Transfers Airport – Hotel – Airport (central or buses)
* Transfers Hotel – Tequila Express – Hotel
* Tlaquepaque – Guadalajara City Tour
Day 1 Welcome at Airport or Central Bus, Accommodation, Orientation Tour of Historical Center
Day 2 Breakfast, Drive to Paseo Tequila Express Open bar and buffet lunch
Day 3 Breakfast, City tour, free time for personal activities, Central Airport Transportation Bus at the agreed time, end of our services
$ 465 USD per person based on double occupancy.
Prices plus VAT when invoiced. Some restrictions apply.