Travel Tips: How to use Guadalajara Buses and Transportation System
Macrobus
This is a relatively newer bus line, they are two buses joined together with air conditioner, this route runs only from North to South
Follows only one route (in blue) Bus ride is $6 Mexican Pesos (exact change only).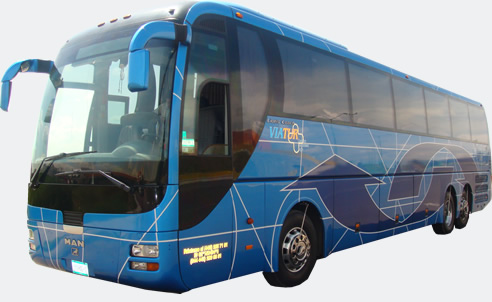 Tourists visiting Guadalajara, Mexico, using the public bus system might seem daunting, if not downright backward. While they are not always clear-cut, hundreds of defined bus routes run throughout the city and its surrounding towns like Tonala and Tlaquepaque. Learning to ride them is a cost-effective way to tour Guadalajara's great expanse. It's possible to purchase a guide to the bus routes, updated annually, at most magazine kiosks. Without prior knowledge of the city, however, you may be better off asking a friendly Tapatio which bus route will take you to your destination.
Keep the ticket the driver gives you. Every now and then, a company auditor jumps on the bus and asks to see all passengers' tickets. Less often, a bus will have to stop for some reason because of a malfunction or the driver's craving for a "torta ahogada," and passengers are made to board another bus that is following the same route, allowing that they present the original ticket. There are seven so-called "luxury" bus companies that operate in Guadalajara (the Tur, Turquesa and Cardenal are examples). With air conditioning and upholstered seats, the coaches are a step up from city bus accommodations–but the fare is approximately double (10 Pesos)
Don't get frustrated if a bus zooms past your frantically waving arm. The bus driver is often more concerned about getting through a yellow light than the inconvenience of stopping for yet another passenger. It might take a few tries to get one to stop for you. As mentioned above, the buses only stop for requests to board or get off. Stops are not announced, nor are they marked, so if you don't know where to get off, you can ask the driver to indicate your stop or enlist the help of another commuter. Buses don't run on a schedule, apart from the time of day the buses start (most before sunrise) and stop running (most around 10 p.m.). The Par Vial route, running from downtown to the Zona Rosa, requires exact change.
Find out which bus or combination of buses will take you to your point of destination. The buses, or "camiones" as they're called in Mexico, go by different alphanumeric names and have distinct vehicle models according to their route. For this reason, it's best to be absolutely clear whether you need to catch the 629-A vs. the 629-B (or 629-1, or -2, etc.), for example. Each route has a varies slightly according to its number and letter.
Wait for the "camion" at the bus stop. On main avenues, bus stops are indicated by street signs or benches. More commonly, there is no indication at all that a bus stop exists; that's why it's best to ask a fellow commuter exactly where the bus passes.
When you see your bus coming toward the stop, flag it down as you would a taxi. Buses stop only for passengers who are getting off or passengers on the street who wave their arm in the air–not for people standing idly on the corner.
Board the bus and pay after it stops. Bus fares are raised periodically, but all routes cost the same, except in the case of privately owned transportation companies (see Tips). Have pesos ready; hand them to the driver, and he will give you a small paper ticket. Exact change is not required, but drivers usually don't accept big bills.
Find a seat, or in the case that no seat is available, grab hold of the closet railing and don't let go. Protocol requires that the first passenger to sit in an empty row of seats occupies the aisle seat, and the second to arrive must make her way across to the window seat.
To get off the bus, press the "stop" button located on the railing near or just above the rear door. Do so with fair warning so the driver has time to pull over. Step down quickly and glance to your right, as some motorcycles and bikes choose to use the bus lane for lack of a better option.
Incoming search terms:
guadalajara mexico tourism
https://tourism guadalajaravisit com/how-to-use-guadalajara-buses-and-transportation-system/
bus pass guadalajara
https://tourism guadalajaravisit com/how-to-use-guadalajara-buses-and-transportation-system/#:~:text=While they are not always to tour Guadalajaras great expanse